This foyer ideas article is based on an article I wrote that was published in the Epoch Times a few years ago. Thought you might enjoy it.
Click On Any Of These Gorgeous Foyer Ideas Pictures to Meet The Designers
These foyer ideas will help you create a great first impression and give your guests a prelude of  what's to come. Your foyer should be warm and inviting beckoning you in. Why not make it impressive! If there was only one place to add wow factor I say let it be the foyer! These foyer ideas will do just that-Wow! 
Not every home is blessed with a grand entrance. There are so many ways to make a lot out of a little. It just takes a little ingenuity…
Let's start with function in the foyer: In my opinion; every good foyer, to function well, should have a mirror to grab a last look before you run out the door (If you're not blessed with a mudroom then the foyer must be more than just impressive), a place to hold your keys, a place to sit if possible to take off your shoes, a closet, hooks, coat rack,… to hang your outerwear.
Now let's add the Wow with these foyer ideas, here's how: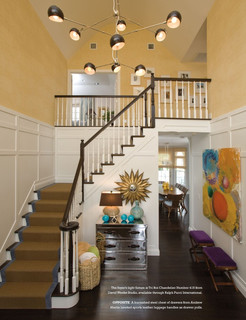 Paint your foyer a fabulous get your attention color like a sunny yellow or orange that says welcome.
Don't be afraid to go bold and large here, you want to make a statement! 
Add wainscoting.
Make a photo gallery or art gallery.
Decorate the foyer walls with a mirror collection
.
Place a large vase of flowers on a foyer table

Add a beautiful antique piece or 2 or 10  😉
Hang a fantabulous chandelier!
Add a large plant or tree or two and up light them
Offer seating with a gorgeous settee or bench
Add accent lights using beautiful table lamps on a foyer table
  Create a stunning tablescape on an eye catching furniture piece
As you can see there are so many cool foyer ideas to make your foyer warm and welcoming, and they don't have to cost a lot, nor do you have to have a large space to make a big impact! Many of these homes are grand, but if yours is a bit more humble, just use the ideas and scale them to your space and budget.
Just don't forget to tie in the entry to the rest of your home using color, art, fabrics, and accessories. And make sure your savvy design style doesn't end at the entry, give all the rooms in your home a little Wow!
Thanks for reading, I hope I inspired you and got your creative juices flowing! I'm always available to help with your decorating needs.
passionately,
Making a Wow Statement In The Entry With These Foyer Ideas